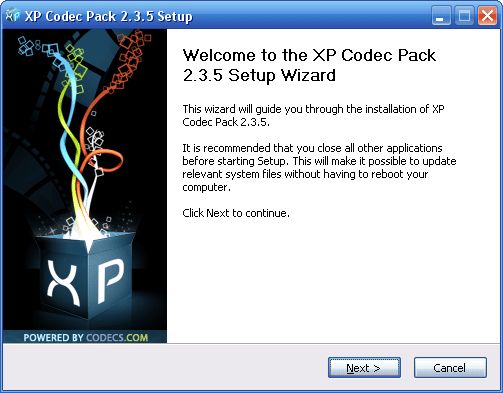 XP Codec Pack is one of the most complete codec pack which helps you to play all major audio and video formats. To complete your multimedia experience, instead of 3 or 4 different players you get one, simple integrated player that plays almost all audio and video files: Media Player Classic.
This Codec Pack includes following software:
AC3Filter
AVI Splitter
CDXA Reader
CoreAAC (AAC DirectShow Decoder)
CoreFlac Decoder
FFDShow MPEG-4 Video Decoder
GPL MPEG-1/2 Decoder
Matroska Splitter
Media Player Classic
OggSplitter/CoreVorbis
RadLight APE Filter
RadLight MPC Filter
RadLight OFR Filter
RealMedia Splitter
RadLight TTA Filter
The Codec Detective
VSFilter (DirectVobSub)
untuk memutar video movie hasil download kadang teman2 mengalami kendala.... entah itu gak bisa keluar gambar... suara jembret ... atau file format gak support ... itu hanya masalah pada VDIEO / AUDIO codec .... dalam kasus seperti itu beberapa video player memang berbeda... ada yg support ada yg nggak.... nah kali ini kita share buat temen2 yg nemuin kendala kayak gitu... coba instal codec pack ini ( XP version ) selain itu cb pake Video player yg mendukung beberapa format file ... dari AVI . 3Gp . mpeg video VOB . mov DAT .. atau yg laen .... semoga sedikit membantu problem teman2 tentang kendala dalam memutar Video ......
[You must be registered and logged in to see this link.]